Business owners and well-paid workers are taxed on average 29%, while the top 400 billionaires pay just 22%.
ProPublica has just cited data from the US Internal Revenue Service, revealing the nation's 400 highest earners from 2013 to 2018 as well as the amount of tax they pay each year. It is known that to enter this top 400, the average billionaire must earn at least              $110 million/year.
This means that an ordinary American citizen with an income of $40,000/year will have to work for 2,750 years to be in the top 400. In addition, to be in the same line with the 11 richest billionaires in America with an income. With an average income of more than $1 billion/year, an American citizen will spend 25,000 years working.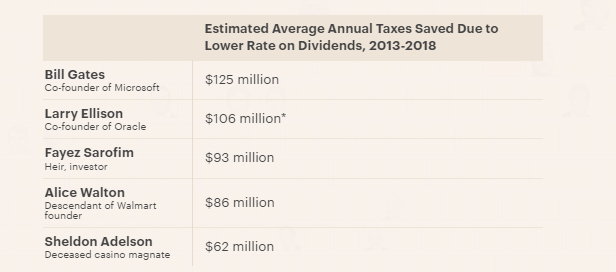 According to ProPublica, the percentage of income tax each US citizen must pay will increase when their total income is in the top 1%. However, when the income reaches between 2 million and 5 million USD/year, the uptrend will stop. The income group in this range is mainly business owners and ultra-high-paid workers. They were hit with an average income tax of 29% from 2013 to 2018.
Meanwhile, the 400 highest income earners in the country only pay an income tax rate of 22%. The reason is because the income of the richest people in America comes mainly not from wages but from stocks or real estate. They often sell properties for a profit and this is taxed at a lower rate than taxes on wages and salaries.
Billionaire technology Bill Gates is a prime example. His income mainly comes from selling Microsoft shares and the tax he has to pay is lower than the average person. So is Jeff Bezos or Elon Musk.
"The bottom line is that most of the income of the rich is never taxed," said Chuck Marr, federal tax policy director.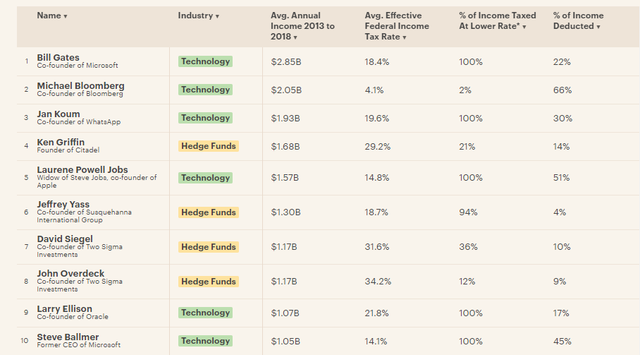 ProPublica accordingly proposed abolishing the old income tax regime, since such tax rates were disproportionate. Not to mention, ordinary workers themselves, in addition to income tax, also have to pay additional taxes on Social Security and medical examination. These amounts are automatically deducted from your monthly salary.
"Salaried workers are subject to higher federal tax rates than even the highest earners," ProPublica said.
This type of taxation is not new and has been in place for decades now. This has helped the top 400 US corporations save an average of $1.9 billion in taxes each year. Top 5 billionaires who save the most taxes can be mentioned as Bill Gates, Larry Ellison, Fayez Sarofim, Alice Walton and Sheldon Adelson.
Americans naturally feel dissatisfied with this tax rate policy. Democrats in the US Senate last year proposed taxing the tradable assets of billionaires to help fund President Joe Biden's social spending program.
However, because it will almost certainly face various lawsuits and legal challenges, the proposal to tax the rich in America has been "dead early". This once again highlights the persistent challenge of getting America's wealthiest people to contribute their fair share to the federal budget.