From the COVID-19 pandemic, supply chain disruptions to energy price inflation and hostilities in Eastern Europe, everything is like "dominoes" falling and weighing on the global food net, rekindling a large-scale food crisis.
Even before Russia attacked Ukraine, food prices were already rising around the world due to higher transportation costs, energy price inflation, labor shortages that emerged after the pandemic, and extreme weather.
The United Nations Food and Agriculture Organization's (FAO) global food price index has risen more than 40% in the past two years to set an all-time high, Bloomberg reports.
Now, military conflict in one of the world's "breadcrumbs", along with Western sanctions on Russia and measures to protect food supplies by other countries have increased the risk. there was a massive hunger crisis.
Where does the risk start? Bloomberg has compiled a number of facts for us to find the answer:
Production is interrupted
The war in Ukraine has disrupted the supply of important agricultural products that the Black Sea region transports to world markets, as the country's ports are closed and foreign ships are also afraid to go to the area. Affected commodities include wheat, vegetable oil, and fertilizer.
The spring planting season is precarious as military conflict tore through Ukraine's agrarian regions. Ukrainian farmers are struggling, but the ongoing fighting means that sowing seeds or harvesting other crops will be impeded.
MHP SE, a major Ukrainian food exporter, has moved to provide food for troops and civilians in bombed cities. On the other hand, Russian wheat shipments have rebounded, with some being exported to countries that normally import from Ukraine.
Energy shock
Energy prices began to soar last year as demand in the world's economies recovered from the pandemic and outstripped supply. Meanwhile, energy and food are closely related.
In Europe, skyrocketing natural gas prices have forced some facilities to cut production and fuel prices have also spiked. Gas is the input to produce nitrogenous fertilizers, while the fuel is used by farmers to heat barns and run equipment to produce food.
Adding to the pressure on energy prices are the sanctions that the West has imposed on Russia – the world's top energy supplier. The US and UK have announced bans on imports of Russian crude oil and other petroleum products.
The hot increase in energy costs as a result of the Russia-Ukraine war has forced the US to release 1 million barrels of oil per day for 6 months, starting from next May. This is an unprecedented move, showing that the Biden administration is concerned about high anchor gasoline prices and supply shortages.
Fertilizer
Fertilizers, a vital ingredient for most crops, were in high demand worldwide due to supply problems, even before hostilities broke out in Eastern Europe.
Russia, a major supplier of all kinds of crop fertilizers, urged domestic firms to cut exports in March. This has raised concerns about a shortage of input materials for the flowers. important color.
Moscow's move further destabilizes global markets as farmers in Brazil, the world's largest fertilizer importer, are having difficulty supplying nutrients to their crops.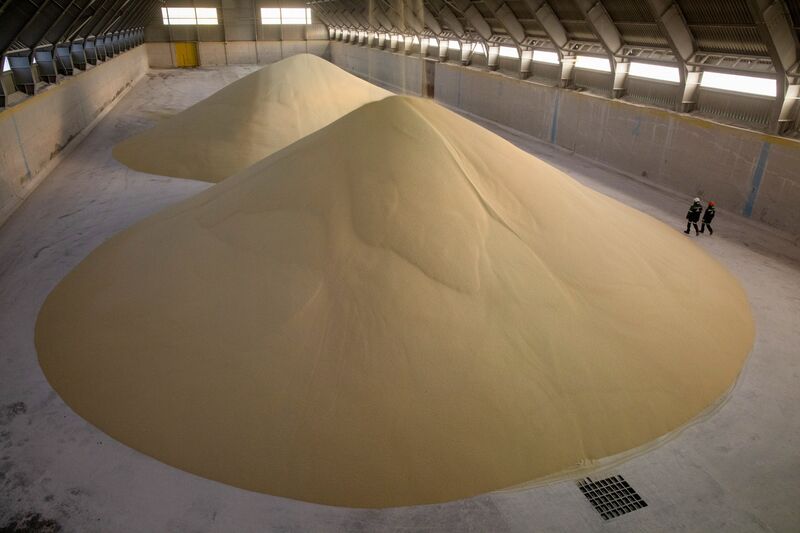 President Putin also emphasized that in addition to prioritizing supply for domestic farmers, Russia will only export fertilizer to countries "friendly" to the Kremlin.
The spike in fertilizer prices has even prompted some US farmers to grow more soybeans than corn, which could exacerbate shortages of some grains globally.
Countries "save themselves"
Governments are trying to keep food supplies closer to them, but their actions are likely to make the food inflation shock last longer.
Hungary, Argentina, Turkey, Serbia and Egypt have all imposed or threatened to put limits on agricultural exports in an attempt to lower domestic prices and ensure food supplies for consumers.
Disrupted trade flows from the Black Sea also threaten to hurt countries in Africa and Asia, two regions that depend on Europe's two loaves to feed hundreds of millions of people. people.
For example, Egypt is the world's largest wheat importer and 86% of its supply comes from Russia and Ukraine, according to 2020 figures.
Panic buying
The shock is spreading to store shelves around the world. Fear of rising sunflower oil prices has provoked Turkish consumers to buy goods.
Even Indonesia, the world's largest exporter of cooking oil, is feeling the strain. Supermarkets have to limit each person to only one can of oil, so families have to bring their children along to store more cooking oil.
Concerns about food supplies are also growing in the world's two most populous countries, China and India. Chinese businesses are actively buying more corn and soybeans to ensure supplies, in the context of Beijing's increased focus on food security.
Demand collapsed
When purchases fall because consumers can't afford them, economists call it a "demand destruction."
In India, the explosive increase in the price of vegetable oils has caused purchases to plummet. This billion-people country is the world's largest importer of cooking oil, an indispensable ingredient for frying, stir-frying and processing many other dishes. Indian consumers are extremely sensitive to cooking oil prices.
In the United States, budget constraints have forced food banks and grocers to rebalance menus to address the hunger of the poor, as the world's largest economy struggles with high costs. Fuel, electricity and water costs and rent skyrocketed.