The lockdown to contain the most severe COVID outbreak since the beginning of 2020 have taken a heavy toll on the billions of people's economy, halting production and pushing supply chains into a severe rupture.
According to Bloomberg, China's draconian anti-epidemic measures are designed to wipe out COVID-19 from the community, but at the same time, they also put pressure on everything from production and trade to inflation and food prices.
Premier Li Keqiang has repeatedly warned of risks to economic growth. Earlier this week, Mr. Lee reminded local governments to "consider the urgency" when implementing current policies.
So far, the Beijing government is still determined to pursue "Zero COVID" – a strategy that experts say will drag China's economic growth this year below 5%, which is lower than the main target. 5.5% formula.
Bloomberg has summarized the impact of this severe lockdown on important sectors of the world's second largest economy, specifically as follows:
Deal a painful blow to the commodity market
China's imports of goods slowed significantly in March, due to rising prices due to the war in Ukraine and lockdown measures that have curbed consumer demand in the country of billions of people.
Natural gas purchases were hit the hardest, as gas imports fell below 8 million tons- the lowest level since October 2020. Imports of coal and crude oil also fell short of last year.
Domestic metallurgical facilities are facing obstacles in transporting raw materials and finished products, leading to businesses having to cut production.
According to a survey by the Shanghai Metal Exchange, six out of 12 copper rod processing plants in neighboring provinces of Shanghai have suspended or plan to suspend production. The agency also predicts an increase in aluminum inventories.
At the same time, China has also reduced its purchases of liquefied natural gas (LNG) due to higher prices and sluggish domestic demand.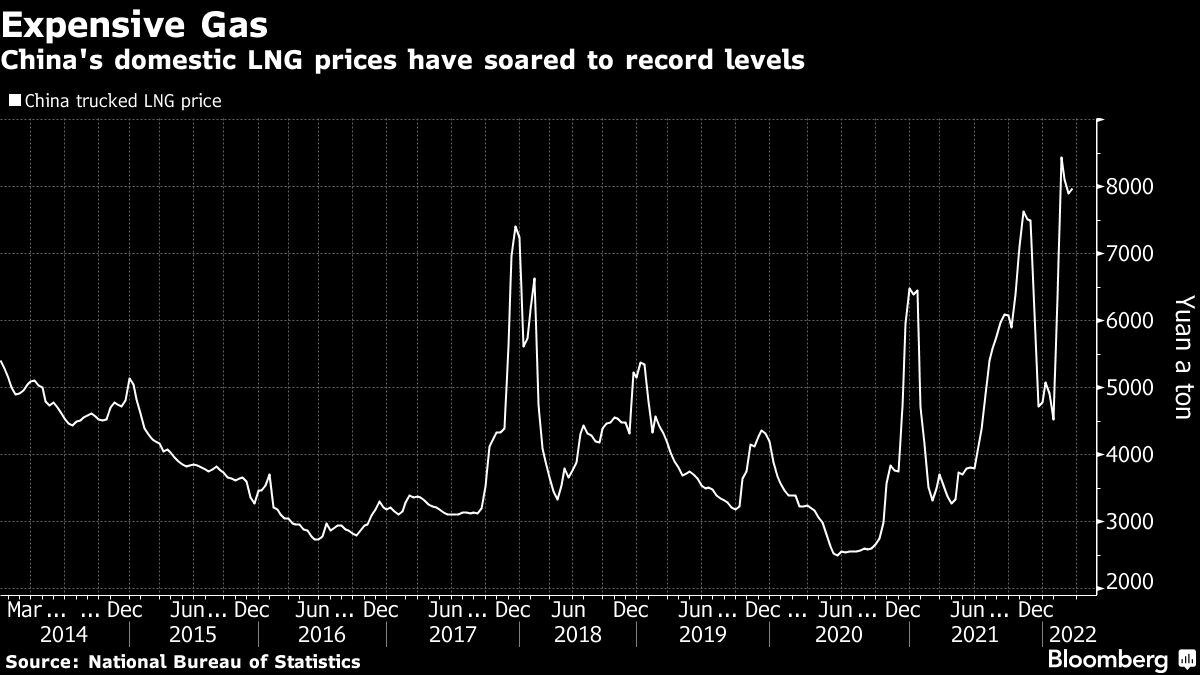 Specifically, LNG imports in the first quarter of this year lost 14% compared to the same period last year, and private enterprises are shaking their heads and refusing the fuel receiving points that they once had to compete fiercely for state-owned harbors.
Congestion from port to road
The lockdown of the whole city of Shanghai has caused congestion at the world's largest seaport, a series of ships have to wait in line and other seaports have to struggle to handle diverted shipments.
As of April 11, the number of container ships waiting off the port of Shanghai increased by more than 15% from the previous month, Bloomberg data shows.
In addition, according to ship owners and traders, the shortage of port workers in Shanghai is also slowing down the paperwork.
Meanwhile, ships carrying metals such as copper and iron ore have to anchor offshore because trucks do not transport goods from ports to processing plants.
Production stalled
A survey of purchasing managers in China showed manufacturing activity weakened in March, when small and medium-sized companies faced major operational difficulties.
Caixin's manufacturing PMI, which is mainly focused on small businesses and export-oriented, has fallen to its lowest level since the outbreak of the COVID-19 pandemic more than two years ago.
Large manufacturing companies can maintain operations by applying a closed-loop system in which employees stay at the factory and are tested regularly.
However, the above system is also not really perfect. A member of a trade group working with the European Union (EU) last week said work can be "very, very difficult", even if businesses are allowed to operate during the lockdown.
Disruption of the technology sector
Several technology companies have suspended operations as China's draconian anti-epidemic policies weigh on an industry already hit by component shortages.
Notably, most of the major tech giants, from SMIC to TSMC and Foxconn Technology, froze operations in the early days of the outbreak in Shanghai. Some have resumed production after establishing a closed-loop system.
Consulting firm Trendforce estimates that logistics problems are hampering component shipments, depleting inventories to the point where some manufacturers, such as Pegatron, Wistron and Compal Electronics, have just enough material left to build. production in a few weeks.
The global commodity supply crisis could worsen if production in China is disrupted. At that time, the supply of computers, game consoles, smartphones, servers, electric cars, etc. is all at risk.
The pain of the auto industry
China's overall passenger car sales fell 10.9% last month, showing the pressure of the Zero COVID strategy on this huge car market.
Some automakers are having trouble in production due to the lockdown orders. Tesla's factory in Shanghai has been temporarily closed since March 28 due to restrictions in the city.
The facility typically produces more than 2,000 cars a day, according to an estimate in early April by analyst Dan Ives from Wedbush Securities.
Volkswagen was also forced to suspend production in Shanghai this month, while emerging Chinese electric car maker Nio last weekend announced it would suspend operations and delay deliveries because of many suppliers. closed.
Auto parts maker Robert Bosch has also closed two factories in China and closed two other facilities. The company said it is seeing "temporary impacts of the epidemic on logistics and supply chains".
Construction and real estate take a beating
Excavator sales in China, a key gauge for the construction sector, plunged nearly 64% in March from a year earlier. This shows the tension in the industry.
Home sales of the country of billions of people also fell sharply last month. The 100 largest real estate companies saw sales fall 53% year-on-year in 2021, according to preliminary data from consulting firm China Real Estate Information. This is the biggest drop this year.
Inventories of rebar indicate that construction activity in China "may have cooled down", a newly released analysis by economist David Qu (of Bloomberg Economics) said.
Inflation risk does not end
Lockdowns have pushed up food prices and could jeopardize this year's grain supply target. The reason stems from the restrictions that make it difficult for farmers to sow the spring crop.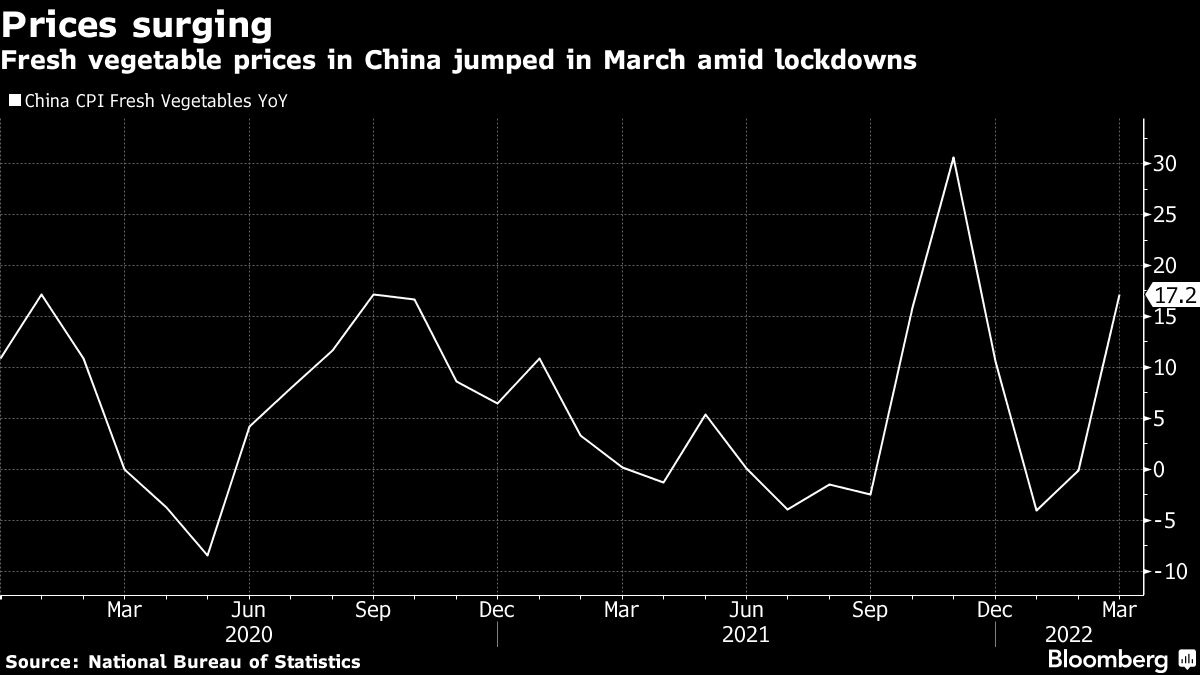 Year-on-year, fresh vegetable prices rose 17.2% in March, data from China's National Bureau of Statistics shows.
Farmers in some parts of the northeast, a region that produces more than 20 percent of China's grain, are particularly confused about planting.