Inspirational Stories
Hermione, a charming witch in the Harry Potter world, might be every boy's childhood crush. Emma Watson, who successfully played this role, is a walking Hermione in real life. She's attractive not only because of the look, but also her personality, intellect and confidence.
Being a world-wide phenomenon after the success of the Harry Potter movie series when she was only nine years old, Emma Watson didn't let fame distract her. Watson demonstrated that despite her celebrity status she could also stay grounded and not let it go to her head. She completed her schooling whilst playing Hermione. And not just completed, she completed it in an impressive way. She once made all other child actors in Harry Potter shocked and jealous since she could remain straight-A scores at school while filming for the movie. And then she also managed to follow her higher education at Oxford and Brown Universities alongside her acting career. She has managed to juggle fame and the real world and keep them in balance.
A very young start
Watson demonstrated that despite her celebrity status she could also stay grounded and not let it go to her head. She completed her schooling education whilst playing Hermione, and then also her higher education at Oxford and Brown Universities alongside her acting career.
Watson is an inspiration for that alone: she has managed to juggle fame and the real world and keep them in balance. Emma's acting career began at the Dragon School in Oxford remaining there until 2003. She was actively participating in school plays. By the age of ten she already performed in roles of an evil witch in "Arthur: the Young Years", the role of a swallow in "The Swallow and The Prince", the angry cook in "Alice in Wonderland", and also the leading female role in "The Happy Prince". When she was six, she started attending a part-time theater school Stagecoach Theater Arts, where she studied acting, dancing, and singing. When Emma Watson was seven years old, she won in the school competition of reciters, and by that time, she already had a strong belief that she would become an actress.
Emma studied diligently at the school. She was fond of literature and sports. The girl played hockey since she was four, so at the school, she joined the hockey team. Besides that, she has always been involved in various competitions in athletics and rowing. According to her teachers, she was very active and cheerful.
Since she was a child, Emma loved singing and dancing; that's why she dreamt about playing roles in musicals. Her childhood idols were famous actresses such as Goldie Hawn, Julia Roberts, and Sandra Bullock. Another passion of the young star was reading, although she never had such a fanatical love of books as her heroine Hermione.
In 1999, thanks to the head of the theater group, Emma Watson came to the Harry Potter and the Philosopher's Stone casting. At that time, she was only nine years old, and she couldn't even imagine that she could get one of the leading roles. Film producers were surprised by her confidence. Finally, after eight auditions, Emma Watson, Daniel Radcliffe, and Rupert Grint were informed that they had been approved for the roles of Hermione Granger, Harry Potter, and Ron Weasley. J.K. Rowling, the author of the Harry Potter book series, personally approved the selected candidates.
Nine-year-old Emma did not know that this audition would tie her to the "Harry Potter" film series from 2001 to 2011 and bring her worldwide fame.
Follow the love for acting
The first movie featuring young Emma was "Harry Potter and the Philosopher's Stone", which appeared on the screens in 2001. This film broke records for opening-day sales and instantly gained immense popularity. It became the highest-grossing film in commercial distribution in 2001. For the excellent acting performance, Emma Watson was nominated for five awards and won the Young Artist Award for Leading Young Actress.
Emma kept joining the next seven parts of the Harry Potter series and her talent in acting was growing along with those movies. In 2004, Emma Watson appeared in the third part of the movie series, "Harry Potter and the Prisoner of Azkaban". This time, critics much-admired the acting talent of Emma Watson. They noted that the young actress gained more professionalism and seemed more confident in her role. Although "Prisoner of Azkaban" was the lowest-grossing film of the entire series with the box office of $796.7 million, Emma Watson received two awards: the Otto Award, and the Child Performance of the Year from the UK-based film magazine, "Total Film".
By July 2007, Emma Watson earned more than £10 million ($13 million) for the work in the "Harry Potter" film series, and she stated that she was rich enough to retire and never work for money again. Despite the success of "Harry Potter and Order of the Phoenix", all the lead actors were in doubt to sign the contracts to continue their roles for the final two episodes. Nevertheless, soon all of them signed the contracts and Emma Watson eventually signed for the role on March 23, 2007.
Emma is said to be very choosy about her movie roles. She is very careful in building her career and her public image, which shows that Emma is always dedicated to the arts of acting. Apart from the Hermione role, Emma has also joined in many other projects, however she quite rarely was offered the leading role. But she still received a wall of awards for her dedication in the film industry.
Emma also takes part in modelling. Many people even predicted her brilliant future as a model. Although Emma often attends photo shoots for various glossy magazines, she does not plan to get seriously engaged in this business and considers it just as a passing fad.
I love fashion. I think it's so important, because it's how you show yourself to the world.
In 2005, Emma Watson began her modeling career with a shoot for Teen Vogue and was the youngest person ever to appear on the cover of this magazine.
Education is the best foundation
Despite quite a successful actress career, Emma Watson pays a lot of attention to her education. In her life, she has gone through several educational stages.
From September 1995 to June 1998, Emma Watson attended Lynams kindergarten, which was a part of Dragon School. Lynams is one of the most prestigious kindergartens in England. Attending it is a pre-stage of schooling. Emma showed her talent at the age of 7 years, she read a poem by James Reeves Sea and took first place in the recitation competition.
In 1998, Emma started her studies at the Dragon School in Oxford. This school is considered as one of the best private schools in England. Many graduates who attended the Dragon School became famous in different areas and achieved incredible success in their lives. She played for the field hockey club in Oxford.
From 2003 to 2007, after studying at the "Dragon School", Watson enrolled at "Headington School, Oxford private girls" school.
This place may seem quite unusual for the modern generation because all students here are females. Also, each student must participate in every single one school event, which was rather difficult for young Emma Watson due to her intensive schedule. The girl met her best friends: top-model Sophie Sumner and Amy Vaver.
Because of the constant shooting and participation in various public events, Emma Watson was always exhausted, and she simply did not have enough energy or time to study properly and attend school. After the work on the fifth part of the "Harry Potter" film series was over, Emma was determined to go back to school. However, when she received an offer to play one of the major roles in the "Ballet Shoes" she couldn't refuse. Of course, because of her popularity teachers forgave the girl for her absences in classes and delays with her homework, so Emma graduated from the school without any difficulties.
In 2008, Emma Watson finished summer acting courses at "The Royal Academy of Dramatic" (RADA) in London. "RADA" is one of the most prestigious and influential theatre schools in the whole world. After graduation, Emma took a sabbatical year from her studies to continue filming in the "Harry Potter" film series.
In 2009, Emma Watson decided to pursue her education and applied to Brown University, one of the oldest universities in the USA. This institution is a part of the system of the best educational establishments in the United States, so-called the Ivy League. Emma's primary focus was the study of history, philosophy, and English literature. However, due to her participation in the creation of the last part of the "Harry Potter" movie series, Emma Watson had to pause her education in 2010.
From 2011 to 2012, the actress continued to gather knowledge and self-improve at Worcester College. This institution is a great mix of old traditions and modern views. The primary difference of this college from other establishments is that it does not have any limitations regarding the age of their students, it is open for everyone who has passed the exams. Emma Watson chose Worcester College because of the student exchange programs that allowed scholars to transfer to Brown University. She was there for only one year, studying English literature, but she never regretted staying there.
In 2012, Watson enrolled into Brown University for the second time after taking a 2-year break. Despite all the difficulties and hurdles on her way, she finished her education in May 2014 and earned a bachelor's degree in English Literature. As she admitted herself, the university study was accompanied by inevitable hassles, but the students and teachers always treated her with understanding and were ready to help her.
A great activist
Emma Watson can boast not only of stylish photo shoots and memorable roles in modern films but also of her social activities.
Emma Watson actively fights for women's rights. Watson had visited Bangladesh and Zambia to promote the education of girls in these countries.
In June 2014, Watson became a Goodwill Ambassador for UN Women. This entity started its work in January 2011 and was created to combat discrimination against women in twelve major areas of modern life such as education, health, employment, human rights and others.
In September 2014, Emma Watson gave a speech at the UN headquarters in New York to support the launch of the HeForShe campaign that encourages men to stand for gender equality.
Also, in September, Watson visited Uruguay for the first time as the Goodwill Ambassador of UN Women. There she gave a speech, in which she emphasized the need for women's participation in politics.
The HeForShe campaign had a huge success on the Internet. Thanks to this campaign, the #HeForShe hashtag was mentioned more than 1.3 billion times in social networks, raising the question of inequality between men and women. In 2015, Emma Watson was named as The Campaigner of the Year and received the Observer Ethical Award of 2015.
Emma Watson wants to devote herself to social activities in 2016, as the Goodwill Ambassador for the UN. In January 2016, she started the feminist Goodreads book club: Our Shared Shelf, which is aimed to raise a topic of gender inequality by discussing scientific articles and books on this subject.
Joinning The Board Of Directors At The Gucci Owner Kering Group.
Not only does Emma support gender equality, she's also an environmental activist. Emma supports sustainable fashion. Recently, Emma again created a worldwide hit when she joined the board of Kering, being the owner of Gucci. Hardly have we seen a person in the entertainment industry being a part of the UN, and now is a  part of one of the most luxurious brands ever. She is believed to bring a new spirit to Gucci, which is being surpassed by LVMH and especially, Louis Vuitton.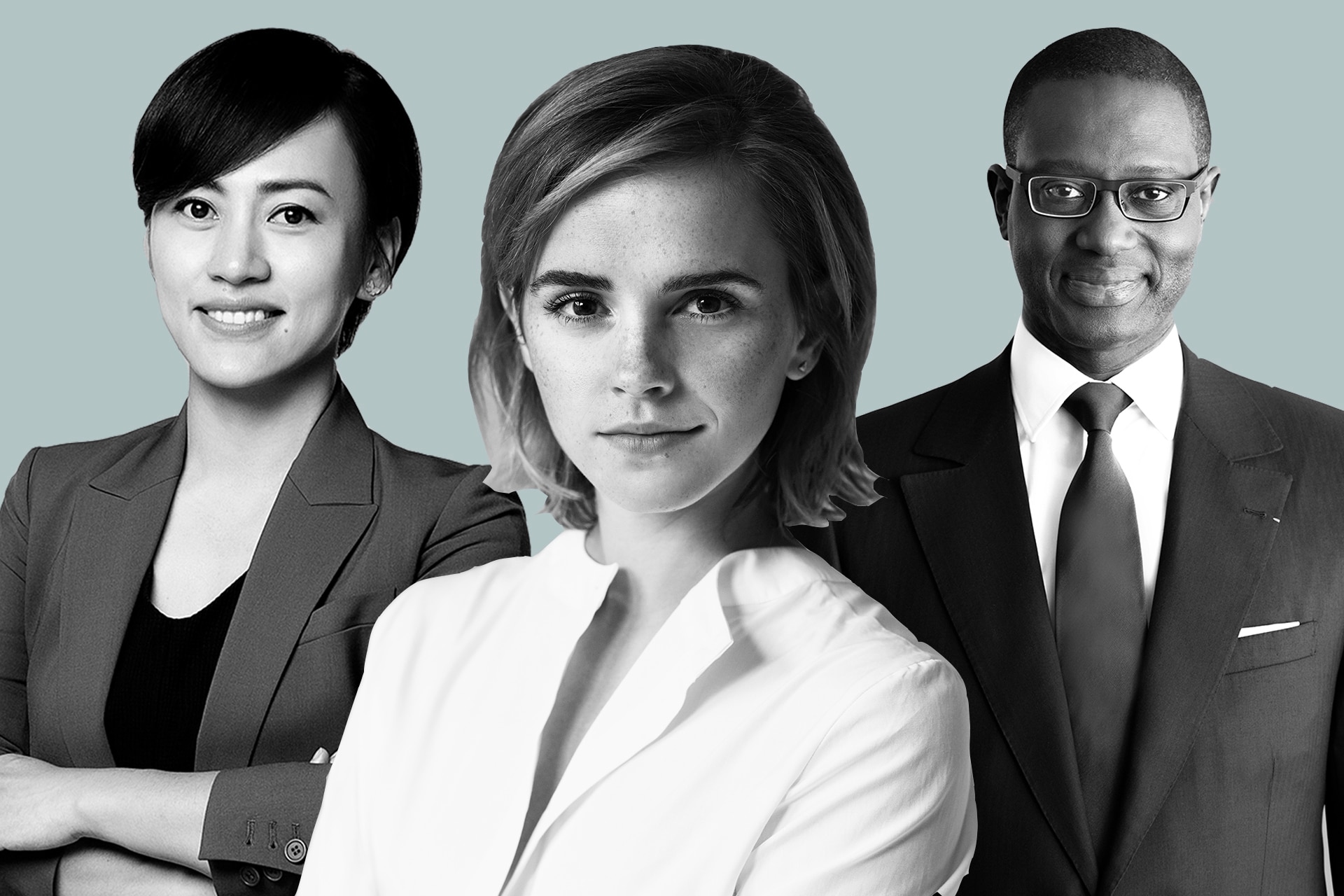 Emma Watson's life story is vivid, bright, but at the same time challenging. Despite her young age, she is already involved in social activity and joined the women's rights movement.