Russia has deployed a series of measures to help it withstand the unprecedented "storm" of sanctions by the West.
After Russia launched a military campaign in Ukraine, the US and its European allies imposed a series of sanctions that they previously considered "unlikely" or "last resort" such as an oil embargo, gas; exclude Russia from the SWIFT international payment system; abolish the "most-favored nation" status…
Kremlin spokesman Dmitry Peskov said that the US had "declared economic war" on Russia and that "the Russian economy is suffering a shock" with "negative consequences". He said this was "unprecedented, there has never been such an economic war against Russia".
In order to withstand the "storm" of sanctions of the US and its allies, Russia has deployed many different measures simultaneously.
Replace SWIFT with the Mir National Payment System 
Major Russian banks have been cut off from the SWIFT global financial settlement system, making them unable to access international markets. However, Russia can now accept electronic payments via Mir, Russia's alternative payment system, and work with foreign banks and businesses, bypassing Western restrictions.
Mir also offers an alternative to Visa and MasterCard as these networks stop providing international transaction services to Russian customers.
Trade in local currency and new export destinations
Western sanctions also target Russia's Euro and USD reserves in an attempt to block Moscow's ability to trade internationally. However, Russia is establishing trade mechanisms to allow payments in local currency (rules) with foreign trading partners. Russia and China have had a ruble-yuan payment mechanism for some time, and earlier this month, Turkey expressed a willingness to transact in rubles.
In addition, a ruble-rupee trading scheme has been adopted for Russian oil exports to India. India, which has so far bought only 3% of its oil imports from Russia, is ramping up its purchases, while Serbia is doing the same. This is a sign that Russia has alternatives to exports if the West continues to isolate Moscow.
Businesses are ordered to sell USD
To support the ruble after the currency's sharp fall against major currencies this month, Russian businesses trading abroad have been ordered to sell 80% of their foreign currency earnings and convert them into rubles. The move is expected to help stabilize the local currency and encourage more investment in Russia instead of moving them abroad.
Grain export ban to ensure domestic supply
Russia temporarily banned grain exports to the Eurasian Economic Union (EAEU) countries this week. The export restrictions cover shipments to post-Soviet countries that share a free customs area with Russia including Armenia, Belarus, Kazakhstan and Kyrgyzstan. This measure is intended to help maintain a good domestic food market and prevent prices from rising.
Increase interest rates to support local currency
With almost half of Russia's foreign exchange reserves frozen and unable to support the depreciating ruble, the Central Bank of Russia urgently raised its key interest rate at the end of February from 9.5% to a record high of 20% per year.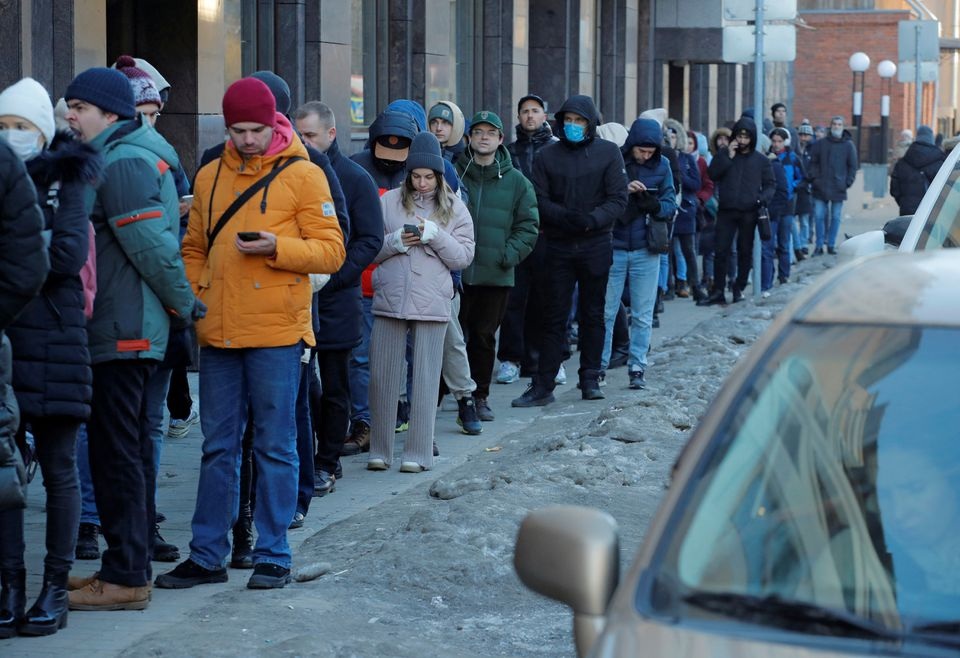 This measure is taken to limit the risk of devaluation and rising inflation, or simply to help maintain price stability and protect people's savings from devaluation.
The regulator also introduced additional measures to support credit institutions and recommended that banks do not charge interest and penalties on loans, as well as allow restructuring of payments and defer payment. The moves helped stabilize the ruble, after Russia recorded six consecutive days of appreciation against the euro and the dollar, as of March 17.
Pay off debt in rubles to avoid default
Russia has authorized two payments to bondholders (organizations and individuals lending money to issuers through bond purchases) with a total value of $117 million, due on March 16, in USD. The money was taken from Russian accounts frozen abroad. Payment approval is now up to the US and its allies. If these countries do not transfer the money, the Russian government will order the payment of the above debt in rubles at the official exchange rate of the central bank of Russia at the time of the transaction.
Western-based institutions stress that, if the debt is not paid in the currency of issue, Russia will face its first default in a century. Moscow accuses the West of trying to create "an artificial default", because Russia has money to pay its debts but it is denied access.
Support the people
On March 16, President Vladimir Putin ordered the application of new measures to support Russian citizens amid rising prices, unemployment and supply problems affected by sanctions. Measures will focus on protecting families with children and the elderly. Putin said a decision to raise the minimum wage, wages in the public sector and social benefits, including pensions, would be made in the next few days.
Financial support for businesses
The Russian government also approved a draft plan to support small and medium enterprises. Local authorities have been instructed to provide organizations, businesses and individual business households with support measures, including subsidies and credits.
Exporting businesses turn to the domestic market
President Putin has urged Russian exporters not to reduce production in response to sanctions, and instead supply the domestic market. This will help keep domestic prices from rising, including gasoline, diesel, metals and other exports.
Keeping foreign businesses in Russia
Facing sanctions pressure, several foreign companies this month announced their temporary withdrawal from Russia, including IKEA, Microsoft, Volkswagen, Apple, Shell, McDonald's, H&M and others.
Russia has made proposals to keep these businesses open, including nationalization. However, in a speech on March 16, President Putin said Russia would respect the private ownership of foreign companies. Previously, he had voiced support for another idea of ​​delegating management from outside, allowing partners in Russia to run foreign companies. The Ministry of Economy of Russia is developing a bill to regulate the procedure.